Nursery tour and Q&A with my interior designer.
Written by CLAIRE HOLT | Jan 2, 2023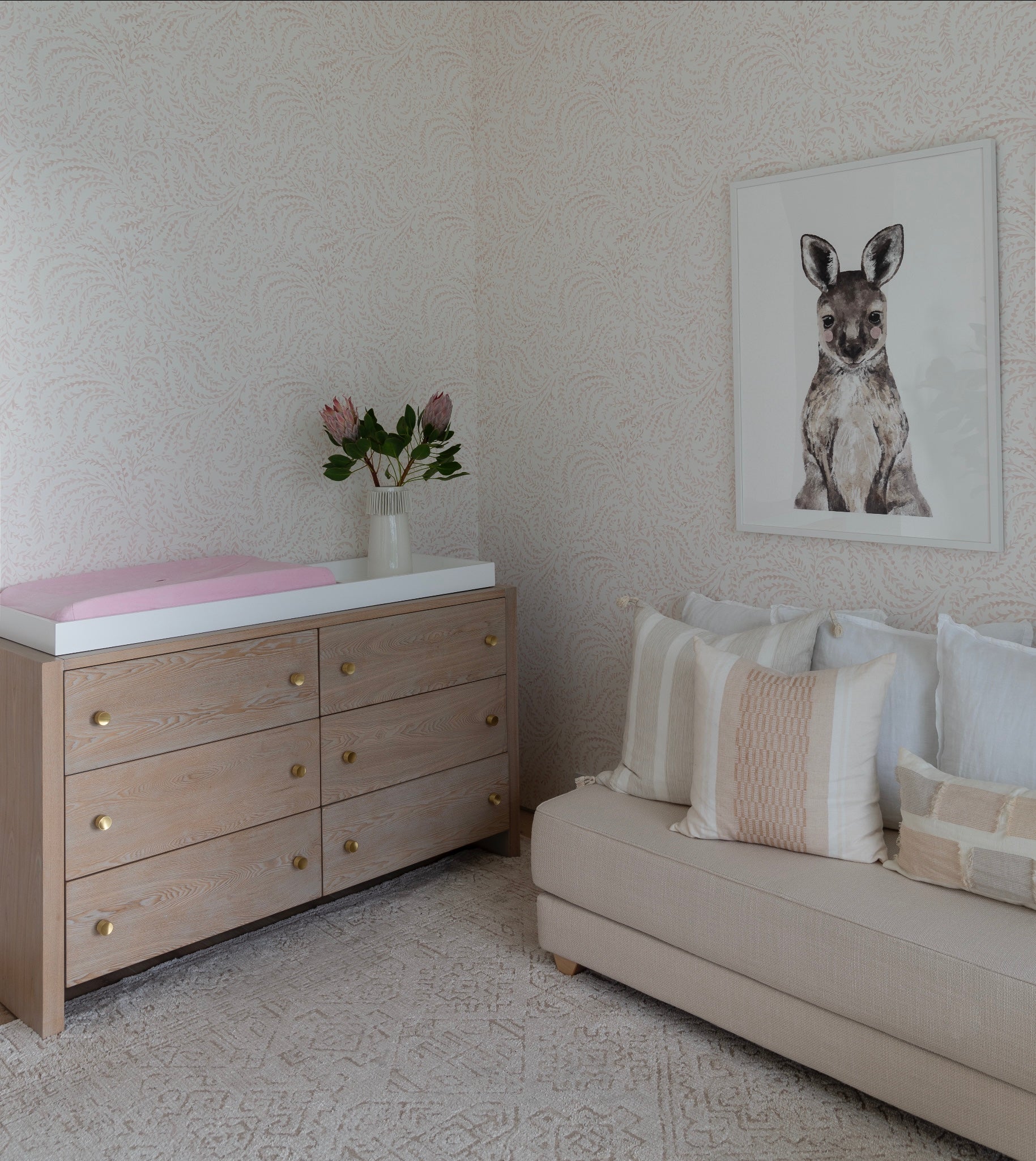 If you happen to buy something, I might make commission. *Prices are accurate and items in stock as of time of publication.
Everything hurts, I'm sick/hungry/tired, and my face turns a gorgeous shade of melasma. The only time I glow is when I stand under a downlight that hits my sweat just right. One of the few things that brings me joy during those long nine months is setting up the nursery. Cute fluffy pillows and pretty wallpaper? Right up my alley. Usually. That is until I can't make a decision because I'm hormonal and generally anxious. Enter Suzy Kloner, my friend and epic interior designer. She helped design two nurseries and they turned out pretty perfectly if I do say so myself. Here are her tips for creating a cozy space that you'll spend a billion hours in.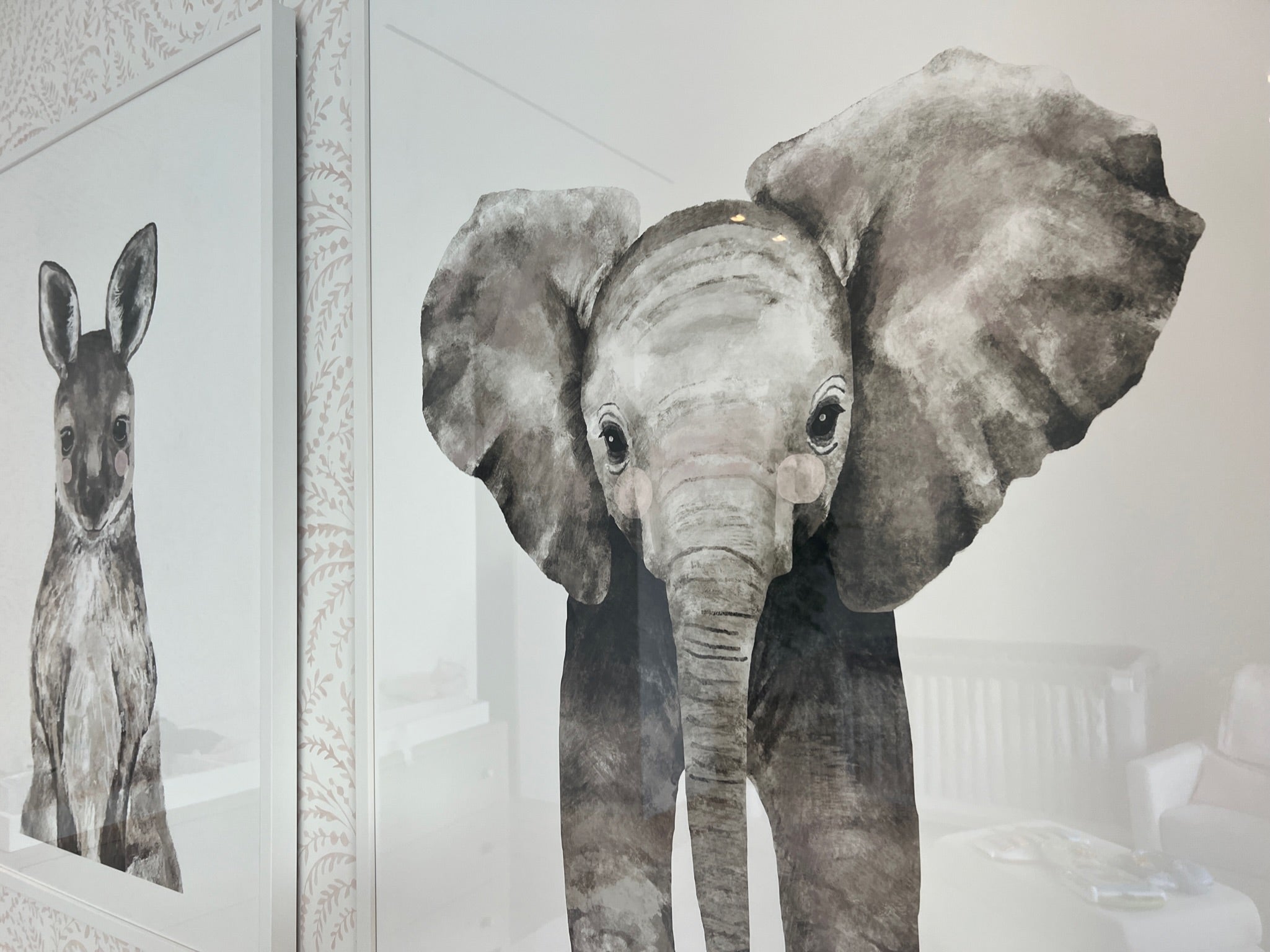 What are the most important things to consider when designing a nursery?
When choosing which room to use for a nursery, it is important to make sure that the room is not on the opposite side of the house from your primary bedroom. You want the baby close by and easily accessible.
Things to take into account are room size and layout and you want to create different zones for the space — sleeping, feeding, changing, play, and reading time. Take a look at the space and decide what layout will keep the room the most open so that your little angel can have some space for tummy time, crawling, playing, and cuddling. Keeping the crib in close proximity to the dresser/changing table for ease is always a great idea if possible.
I like to decide on the color palette of the space as the first step to give the room a foundation to build off of. 
From there, I like to purchase the big pieces: crib, changing table/dresser, glider/chair, and rug. Typically, these are the bigger budget items in the design, thus, I like to go with neutral colors in case you are planning for multiple kiddos so you have the flexibility to reutilize a crib or glider.
Then I move to the third phase of the design, which is where I like to incorporate color. That can be added with wallpaper, paint, murals, pillows, rugs, art, and accessories, as these items are more flexible and easily interchangeable. Lastly, storage is always important to keep your space feeling organized. I love to utilize bookcases and accessories like baskets to hold toys. I also recommend having a shallow basket next to your changing topper; this is always a great way to store diapers and all the other items needed for changing. It makes everything accessible and more organized.
Lastly, blackout drapes or shades are a must so that your little one (and yourself) can get the shut-eye they need. 
When purchasing items there are a few things I like to take into account for the safety and the wellbeing of the little one. The first is a non-toxic mattresses (Naturepedic and Babyletto are my go-to's for these), non toxic low VOC paint (most paint brands offer this), and when choosing a rug, I like to stay away from wool or rugs that shed as this can be a danger for the baby. I don't like to hang items over a crib or changing table in baby's reach, as the baby can grab or pull it down. You should also avoid cords within reach and other small items that can be hazardous.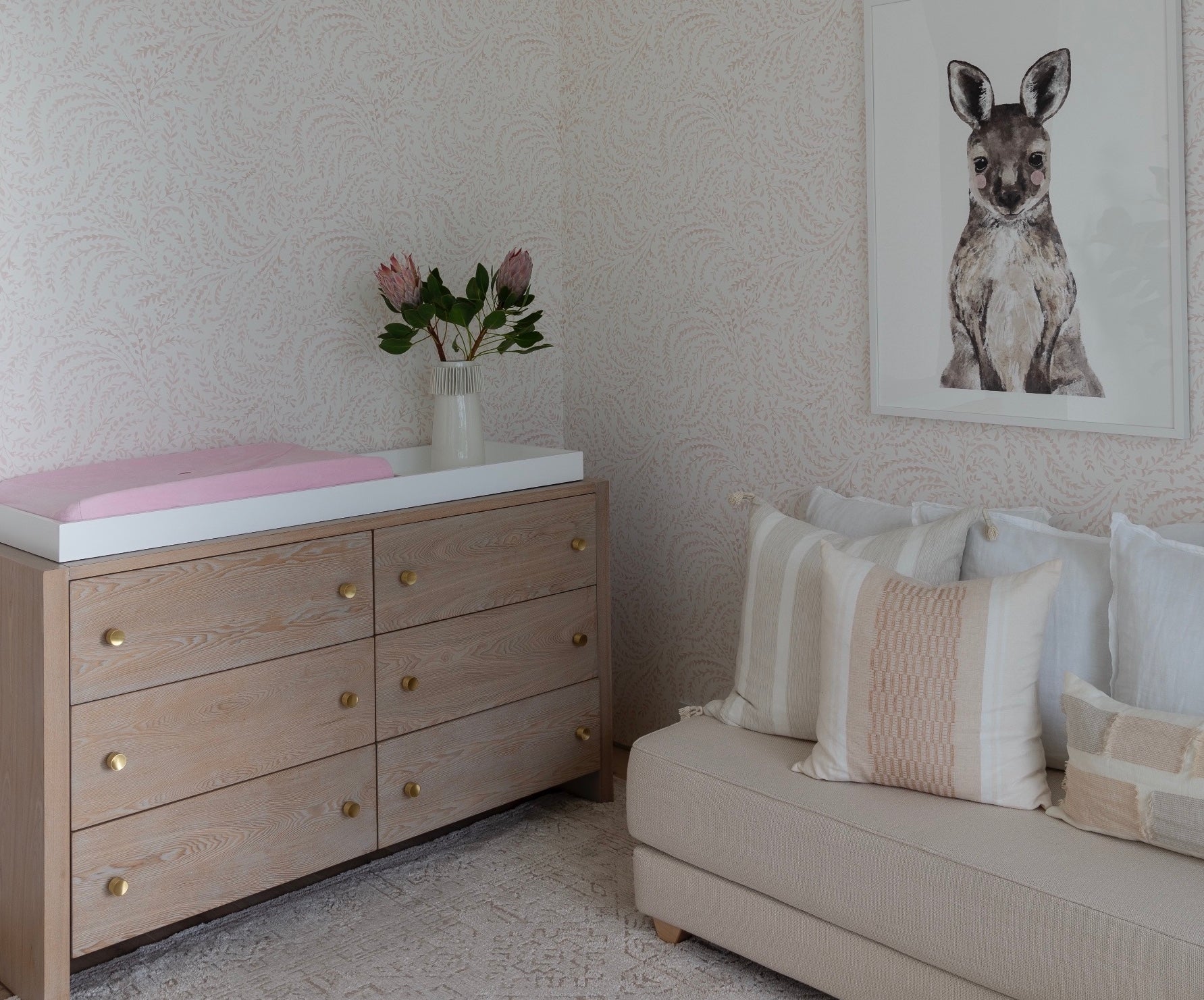 What is the best way to incorporate color? 
Decide what feeling you want the space to evoke. Color is a great opportunity to use your imagination, have fun, be playful, and design an inspiring room that will not only be an oasis for your child but also one that sparks their creativity.
For Elle's room, we chose a calming neutral yet warm color palette that utilizes soft blush and creme tones to evoke a sense of peace with a girly hint. We brought wood tones in the cerused oak dresser — as oak was used in much of the design of the home — this was a nice way to incorporate a natural element in her nursery. We decided to stay neutral with the daybed and crib and incorporate creme tones as those were the staples of the room. We utilized wallpaper from Serena and Lily called Priano in Pink Sand, which adorned the walls for a soft ethereal aura to the space. We then played with varying intensities of this same blush color through the pillows that decorated the daybed and glider. Lastly, we incorporated a touch of brass to give a subtle pop on the dresser and personalized wall decor. 
For James' room, since he was well into his toddler years when we designed his nursery, we added bolder and more energetic colors – navy, teal blues, and soft creme tones and textures. We brought that in by adding a Serena and Lily wallpaper called Feather in Denim which features a herringbone pattern and provides the perfect playful backdrop for his crib. We used whimsical pillows to spruce up the super soft sherpa chair from RH Baby; this added some texture into the space and created the perfect piece for cuddling up and reading. The custom linen drapery is a cashmere-colored linen and is an additional way to add a hint of color, richness, layering, and dimension to the space.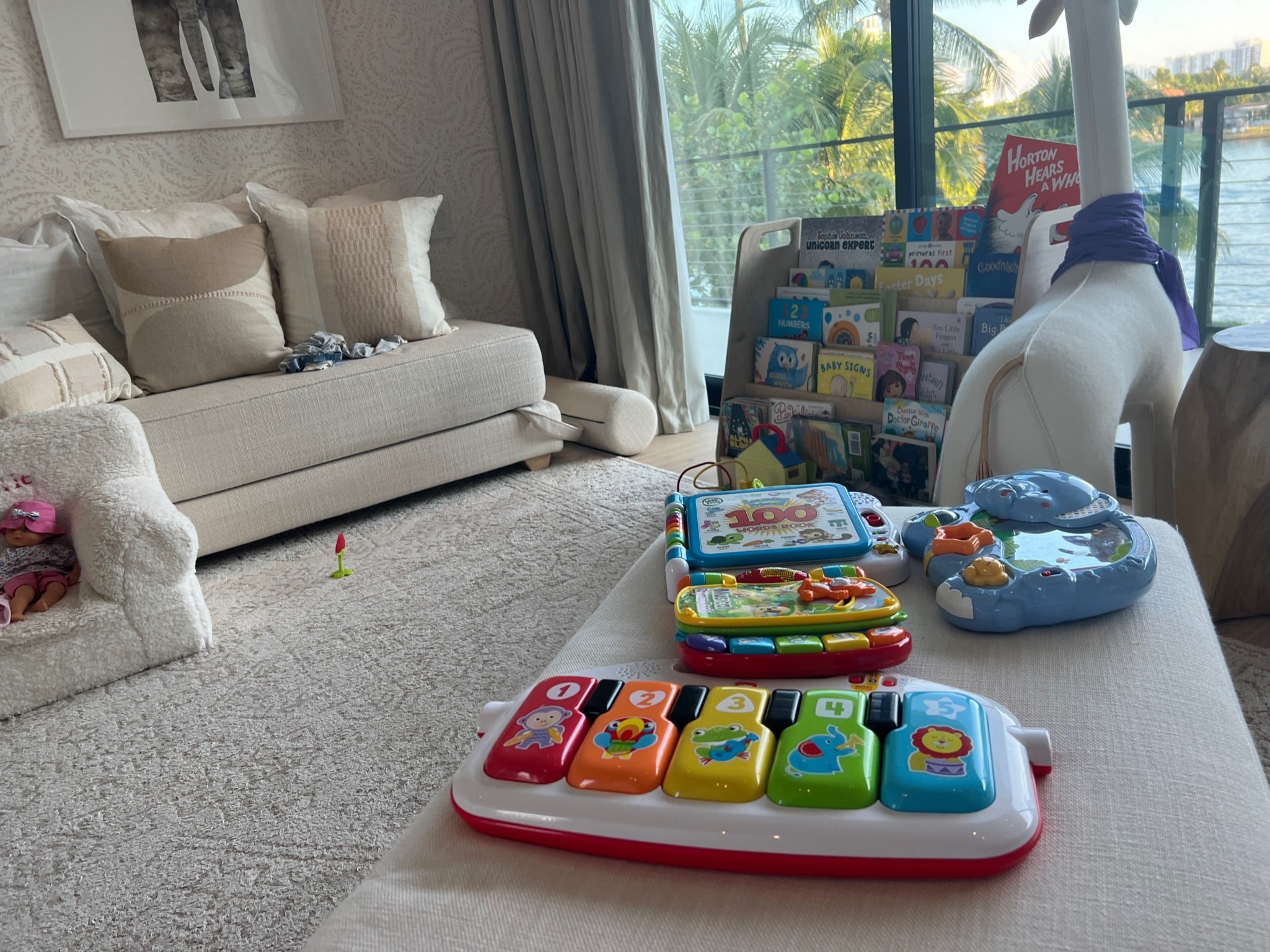 Where are your favorite places to shop for furniture?
1. Serena and Lily has so many great pieces for nurseries, especially wallpaper, gliders, and baskets. 
2. The Citizenry is a great place to shop for pillows that offer a bit of texture and color.  
3. Babyletto and Crate & Kids both make adorable, affordable, interesting, and neutral cribs. 
4. Crate & Kids is also great for bookcases, storage items, and accessories. 
5. Etsy, Minted, and One Kings Lane are great for unique artwork. 
6. Etsy is also great for personalized accessories and wall decor. 
7. Lastly, I love Loloi for nursery rugs. They have soft options so your sweet little one to can crawl around and they have a variety of styles, textures, and colors.
If you were to splurge one item, what would it be?
The glider chair and ottoman. It's important that you have a comfortable place to feed and rest with the baby, especially given the amount of time you will be spending there — you definitely want a well-made piece that offers support. I love gliders as they have more flexibility, smoother movement, and less noise than a rocker. An ottoman is also important so that you can kick your feet up for reading time and longer feedings. 
Me again! I'd add that a daybed or futon is a great purchase if you have the space. Helpful for fussy babies or sick kids. Don't want to jinx you but you gotta be prepared!
I'd also like to add that my nursery is now cluttered with toys, stuffed animals, random spatulas, and TV remotes. I try not to stress about the mess because it means we've made memories. 
C x
Photographed by Carlos Fernandez