My jewelry edit.
Written by CLAIRE HOLT | May 17, 2023
If you happen to buy something, I might make commission. *Prices are accurate and items in stock as of time of publication.
I love jewelry. Like realllly love. More than shoes and candy and love island and Pinot Grigio. I love the special kind you save for, and the toddler safe dupes. Gimme all of it. Here are my top picks, plus a few fun pieces that I have my eye on.
This is by far the most important bling on your body. STACK EM'. And if you don't have a bunch of holes go puncture them immediately. I like an unbalanced look (my right has 5 to my left's 2). You can always add a cuff if you're too scared of the pain but I recommend putting on your big girl (or boy) pants and going all the way. If you're going to leave them in when showering, swimming, etcetera, I'd recommend going with real gold, but if you're switching them out a lot, there is no need to spend a fortune. 

These are what I'm currently wearing and some affordable alternatives.
Before I had my conch piercing I wore an ear cuff every day. They don't stock my original one anymore but this Zoe Lev one is very similar. This Maison Miru cuff is a cute alternative and I'm into this chunky Mejuri one.
I think diamond studs are chic and classic. Mine were a gift from my legendary husband but there is no need to take out a second mortgage to get real diamonds. You can try topaz, white sapphire or crystal. 
Statement earrings are great for a special occasion and I'm trying to branch out and wear them more. These are some I have my eye on. Oh, and if you're looking for a push present or major anniversary gift, I designed a pair very similar to these with Phillips House and I LOVE them.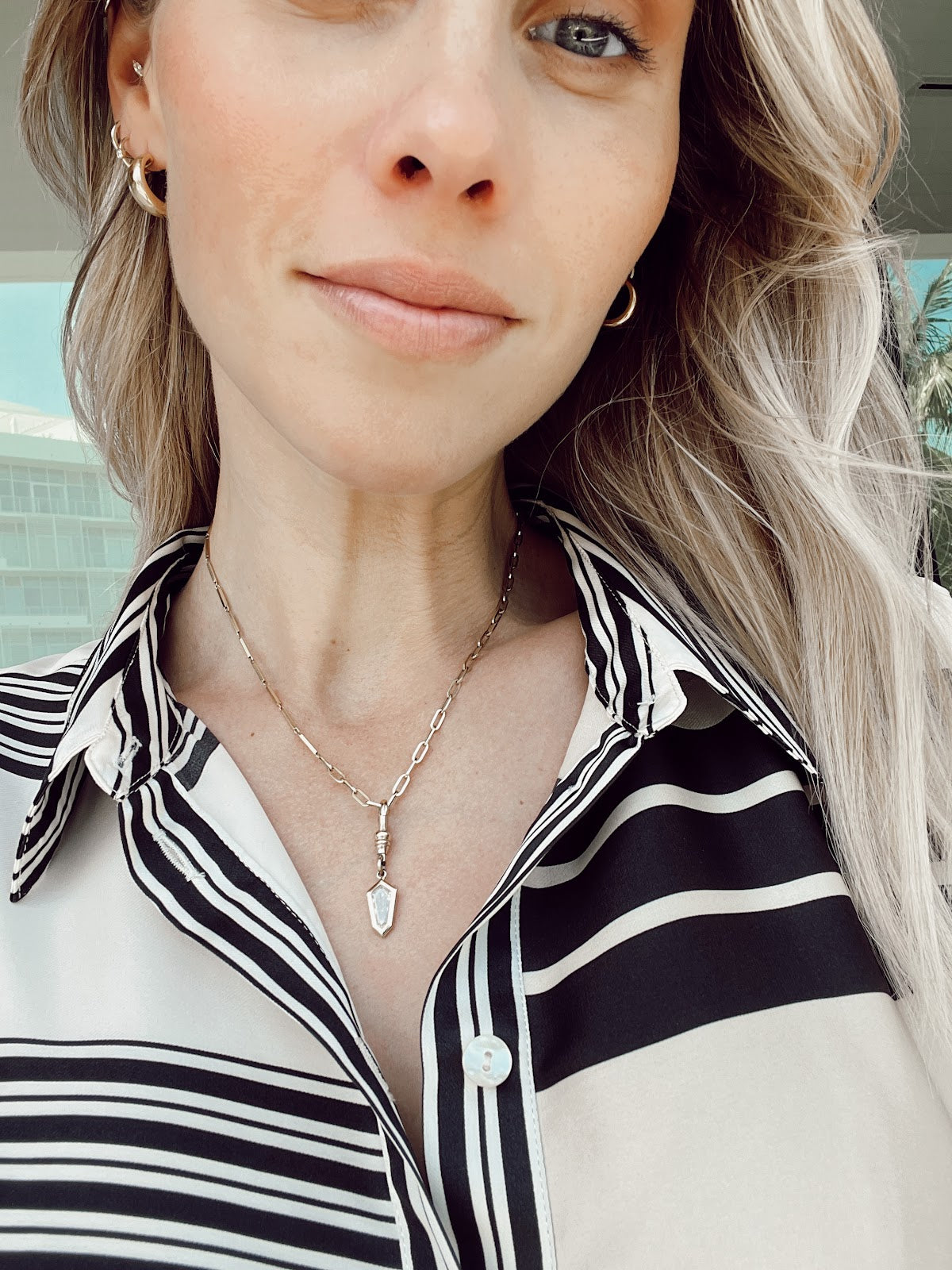 My go-to necklace is one I designed with my dear friend Derek Frankel and his sister Danielle from Phillips House. If you're looking for a very special custom piece I highly recommend contacting them. We chose a kite-shaped diamond with a gold bezel, and added a vintage chain. I love it because it's unusual but goes with everything. Here is a similar piece.
And here are some more affordable options. I have the initial necklace with a J + E and love it.
I wanna be a bracelet girl but my dumb Apple Watch always takes precedence. When I do get around to removing that god awful (but practical) looking thing, I wear this stack.
I'm a big ring gal. I wear my engagement ring all day and night (still can't believe I convinced someone I was marriage material lol), but if I'm going out I like to pile on a bunch of others. 
This BVLGARI serpent ring is one of my favorites if you want to splurge. I love the weight and shape of this Soko ring and very into this signet that you can engrave. And if you're looking for a little color this gemstone stacker is perfection.
I also can't forget to mention my latest unhealthy (or super healthy?) obsession — the Oura ring. It's cute enough that I wear it most of the time and most importantly, it encourages naps. 
I know it's a lot but I needed to give you plenty of options!
Leave a comment
Thank you for your comment!
Nicole luis Luis

| 06.20.2023 |

12:14PM

This was so helpful pls post about your events and how you got invited

Nicole luis Luis

| 06.20.2023 |

12:14PM

This was so helpful pls post about your events and how you got invited

Carina Smith

| 06.20.2023 |

12:14PM

Dear Claire, you are the highlight of my Instagram feed! You have a beautiful family and a fantastic sense of humour! Much love, Carina – Sydney 🇦🇺