My favorite baby and toddler products.
Written by CLAIRE HOLT | Mar 15, 2023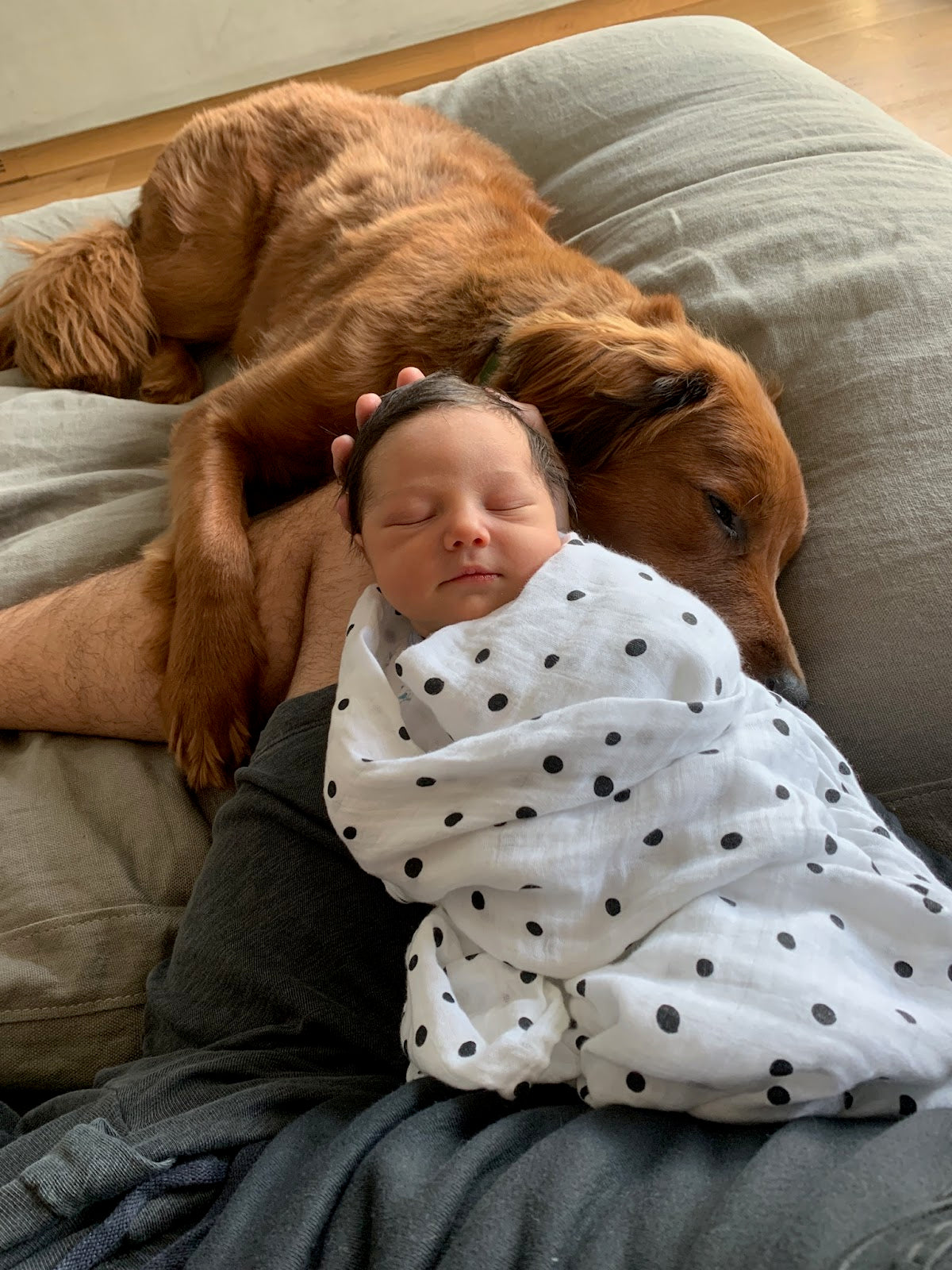 If you happen to buy something, I might make commission. *Prices are accurate and items in stock as of time of publication.
When it comes to strollers, diapers, activity sets, books, etcetera — you name it, I've tried it. It took a lot of trial and error but these are the products that made my life wayyyyy easier.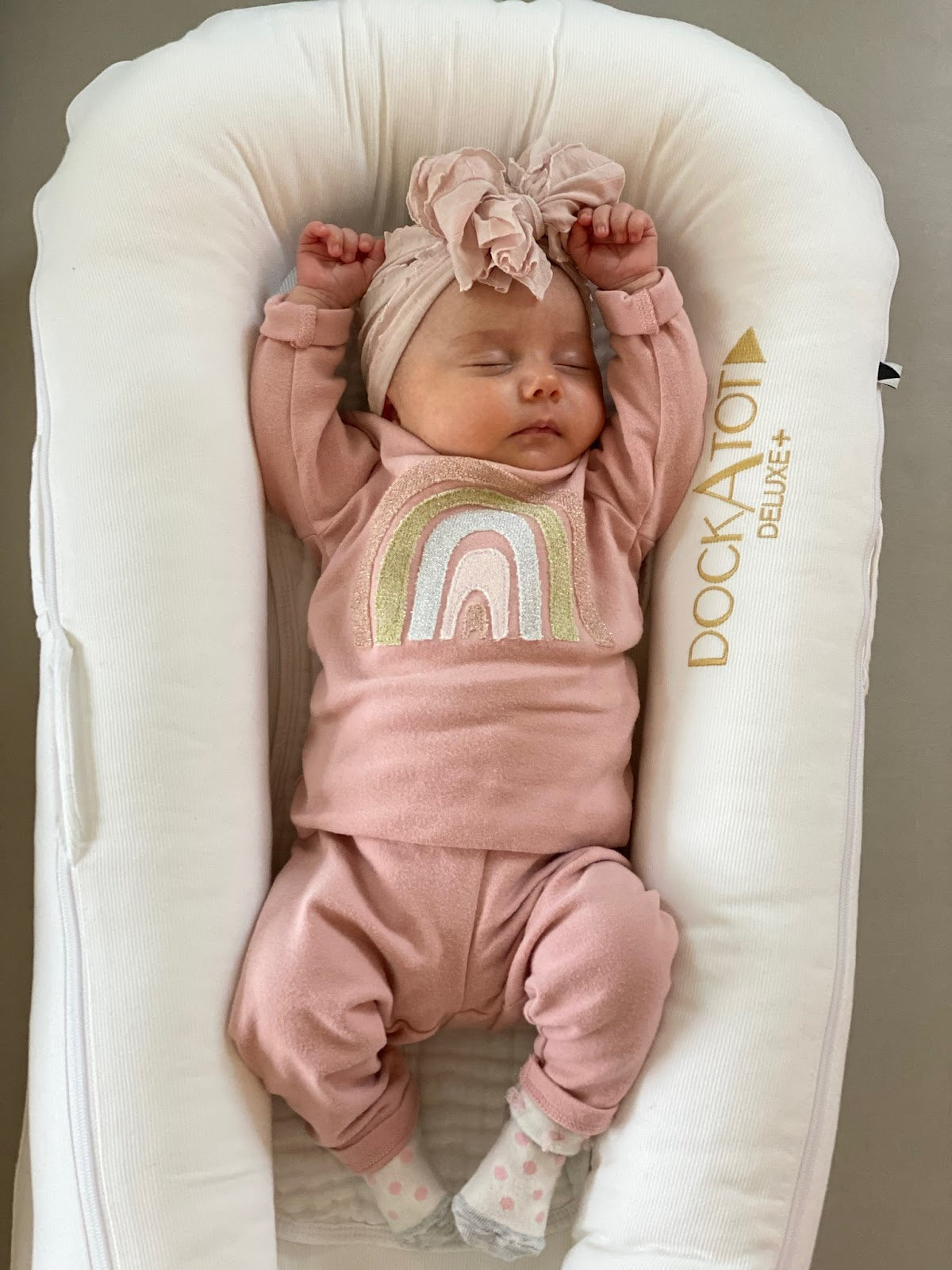 This carrier is great but please look at my dog having an existential crisis. 
Ergobaby Omni 360 Carrier: I really love this carrier! It's so easy to use and James loved facing both inward and outward. It was invaluable on my trip to Australia — I walked up and down the plane aisle wearing him for many hours. Saved my back. While I love the Baby K'tan for newborns, this worked better for me once James got a little bigger. Elle has never liked any carriers but I sometimes use this for her too.
DockATot: The DockATot does an amazing job at keeping the baby cozy. Great for supervised lounging and playtime. Plus, it's super portable. Both my kids loved it. 
Wabi Baby UV Sterilizer: Another of my must-have items. Great design, highly effective, and easy to use. Sterilizes and dries toys and bottles very quickly. We love it so much that despite the size, we packed it in the back of the car and brought it on vacation with us. We still use it to this day because it dries everything so well. 
Artipoppe Carrier: Another one of my favorite carriers. It is SO gorgeous. The quality is incredible, the patterns are really unique, and strangers always ask about it when I'm wearing it. 
Levoit Humidifier: We put this on every night. Great for when they have colds (which feels like every week). I put a little eucalyptus essential oil in and they're off to dreamland. 
James sporting loungewear. Following in my footsteps.
Toniebox: This thing is a dream. I pop on a character and James sits quietly and uses his imagination. It's a really nice alternative to screen time and a great way to keep kids occupied when you've got a bunch of shit to do. You MUST buy the Tonies separately though. You can sign up for a subscription or buy individual characters but don't make the mistake I did and assume they come with the box. 
Camelbak Kids Stainless Steel Water Bottles: I really like these bottles because they're cute and easy to clean. Plus, I freak out about too much plastic so stainless steel is a good alternative. 
Honest Diapers, Lotions, and Body Wash: These are just nice clean products. My kids have sensitive skin and Honest doesn't irritate them. They have such a wide variety and every product I've tried, I've liked. The diapers are my favorite and I've never had to deal with a midnight explosion (my worst nightmare). 
Water Wipes: Wipes that are 99% water. Simple as that. No yucky additives. Great for sensitive bums.
Saint Haven Clothing: I am in love with these clothes. They are so soft yet incredibly durable.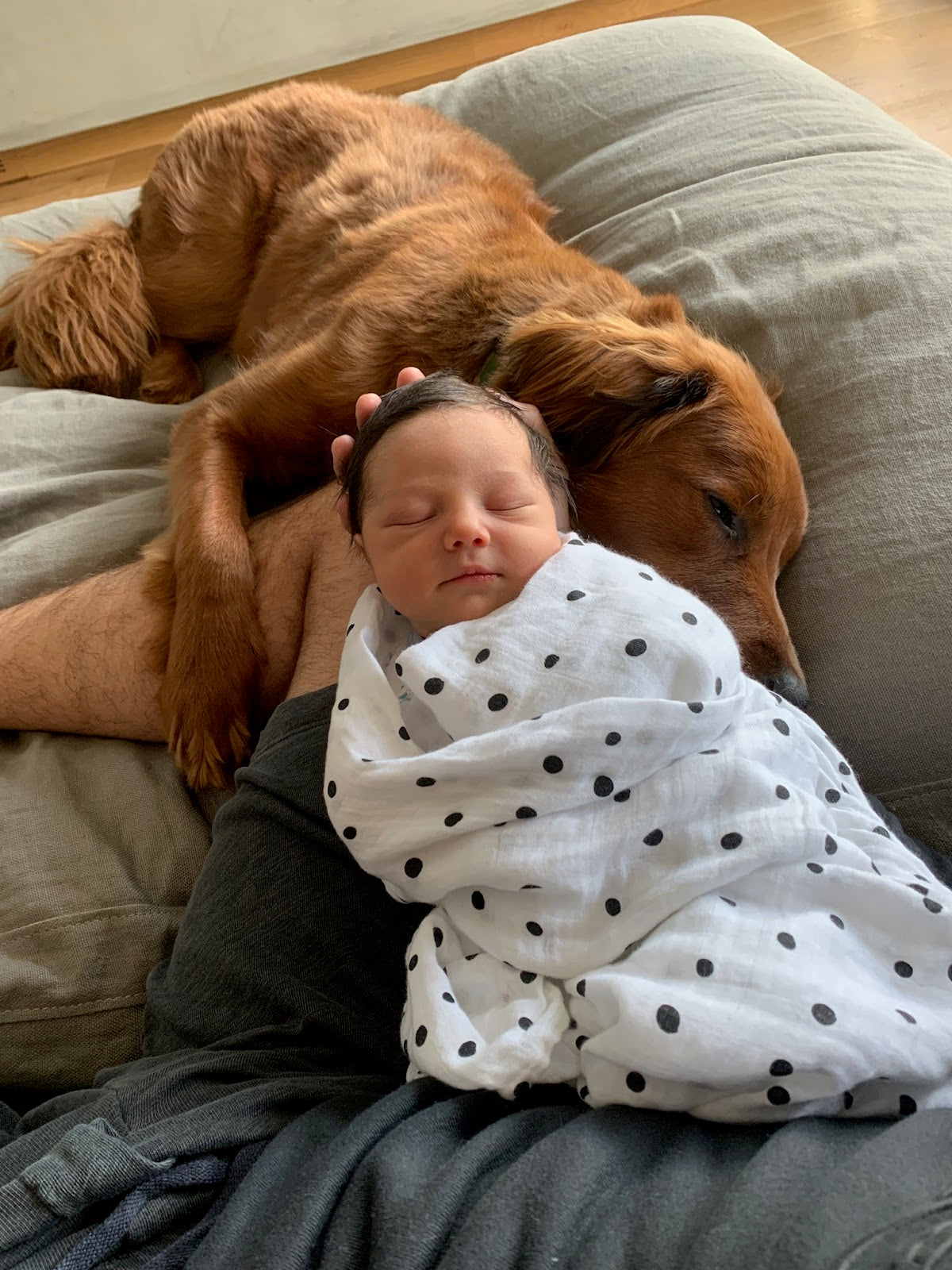 Emily Oster Books (Expecting Better and Crib Sheet): These are the only books I recommend to people. They're non-alarmist, practical, and I love the way Emily breaks it all down. I also love that the data says you can eat sushi when pregnant. 
Magnetic Me Onesies: These are a MUST!!! We tried all different types of onesies and these are the clear winners. They are so easy to snap, which is crucial for middle of the night changing and bath time fussiness. I love love love love this brand. 
aden + anais Swaddles and Blankets: SO beautiful, soft, and very high quality. We really love these and they make great gifts.
Doona Car Seat and Stroller: This is my absolute favorite baby product. We traveled with our kids from a very young age and this car seat/stroller made our lives so much easier. It's lightweight, durable, very comfortable, and switches easily between the two modes. My only wish is that it came in a bigger size, as James grew out of it by six months. This is a MUST if you plan on traveling. I used this as our only car seat for Elle until she was about nine-months-old because she's a peanut. 
Hatch Baby Sound Machine: Awesome product for home or on-the-go. It has such a wide variety of sound options and also works as a night light. We travel with it everywhere; it really helps to keep them in a deep sleep.
Amazon reviewers convinced me to buy this stroller. 1000% worth it. 
Baby Jogger City Mini Stroller for Toddlers: I found this stroller on Amazon and bought it because it had great reviews. It's become our trusty companion. The wheels are sturdy, it's easy to maneuver, and comfortable for the kids. I love the one-handed folding mechanism.  
Joolz Travel Stroller: We took this to Australia and LOVED it. It fit in the overhead compartment and the kids seemed really comfortable. James kept asking if I could carry his sister and push him instead so it got his stamp of approval, too. 
Silver Cross Stroller for Babies: This one is definitely luxurious — it's like a Rolls Royce for a baby and has a ton of storage. I don't usually take it in the car because it's big, but I love it for my daily walks around the neighborhood.  
Monti Kids: I am a huge fan of Montessori and love that this is an age-appropriate subscription service. The wooden toys are beautiful and specifically designed for development. The subscription provides parents and caregivers with access to the Monti Kids Learning Centre, which gives instructions and shares research. I did have an issue with the Level 1 on mobile. I couldn't collapse it and it took up a large amount of space. I checked their website and it seems that they've addressed this and the new mobile is adjustable. All of the other toys are really great though. 
These crib liners are rarer than gold so if you find some, buy them immediately. 
Being a parent means getting excited over a baby monitor because it lets me watch both kids at the same time. 
Baby K'tan: I really loved using this wrap when James was a newborn. He instantly calmed when I wore him and it allowed me to actually get things done! It was so easy to put on (which was important because I struggled with some of the other wraps — it constantly felt like I was trying to solve a rubik's cube), and I was able to pop it in the washing machine to keep it clean. Highly recommend it! 
Magna-Tiles: These keep my kids occupied for hours. They love building spaceships, castles, and towers. I love that they're creative and imaginative. All around win. 

Individual Crib Liners: These are hard to track down and often sold out, but do whatever you can do to find them. They prevent kids from bumping their little heads and they're safer than other liners because they allow airflow. They saved me during the wobbly months, when every roll or tumble has Emergency Room potential. We still have them in Elle's crib.  
Nanit Monitor: Tried them all and imo this is the best. Love that you can do the split screen function for multiple kids.